Pacifique Niyonzima was born about 2 years before the Rwandan genocide in 1994. He was orphaned sometime during the three months of the genocide that killed close to 1 million people. Along with losing his parents, he lost all four of his siblings. He was rescued by a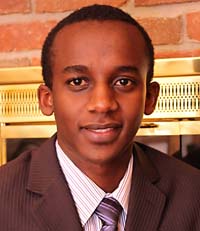 Camboni Missionary Priest from a refugee camp and placed in a make-shift orphanage on Father Jean's family farm where he spent his formative years.
Father Jean Boscoe Gakirage raised Pacifique along with at least 30 other orphans of the genocide. Pacifique graduated high school in Rwanda in 2010. He was brought to the United States by Mike and Jill Burke to join their family in August of 2011. Knowing very little English and having no exposure to western culture, Pacifique entered Walsh Jesuit High School as a junior in the fall of that year. The community of Walsh Jesuit embraced Pacifique and he absolutely thrived in an environment filled with love and support. He graduated Walsh Jesuit in 2013 and he was honored to give the commencement address. Currently, Pacifique attends Walsh University in Canton, Ohio where he is majoring in Environmental Science. He hopes that his degree will allow him to assist those that do not have access to clean water and sanitation. Most importantly, Pacifique hopes to be able to play a small part in supporting peace and unity in his native country of Rwanda.
** Second Friday
---
Coming in October
October 2nd Very Reverend Richard G. Lennon,,
Bishop of the Catholic Diocese of Cleveland
TBA,